Incredible choir bound together by the heartache of their missing loved ones
21:12, 7 MAY 2016 UPDATED 21:12, 7 MAY 2016
BY GERALDINE MCKELVIE
The choir is made up of people from all walks of life but they have one heartbreaking thing in common
In a small room on the second floor of an office block, a group of people bonded by unbearable loss take a deep breath – and begin to sing their hearts out.
From all walks of life and from all parts of the country, they have been drawn together. Into a choir that is like no other.
And the song they are singing is for an audience that is not even there to hear it.
But they can see each and every one of the faces before them in their heads as the lyrics pour out.
The song is called I Hope. It's for missing loved ones. And all of them know of the unimaginable agony of having a loved one disappear.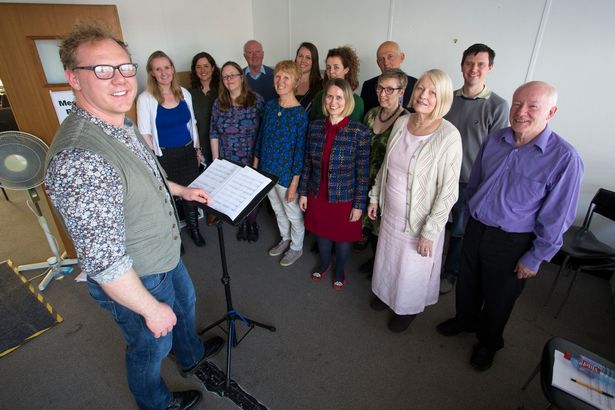 Members of the Missing People Choir rehearsing at the charity's London offices
ahead of the recording of their latest single
Some have never been found. Others ­disappeared only to be found dead.Around 250,000 people go missing in the UK each year.
The names of some choir members' relatives have made national headlines while others are barely recognisable – yet the pain and loss they feel is the same.
Clutching coffee mugs, they gather around a keyboard to rehearse their new charity single which will be released later this month.
It will also feature guest vocals from stars Rick Astley , Lesley Garrett and Chesney Hawkes.
Hope is all the choir members have. Peter Lawrence hopes against all odds his 35-year-old daughter Claudia will one day be found safe after vanishing in 2009.
At the other end of the spectrum, Ros Hodgkiss hopes to be able to carry on with life after her 14-year-old daughter Alice Gross disappeared in 2014 only to be found murdered a month later.
On Sunday the choir is rehearsing in the HQ of the charity Missing People, in Mortlake, South West London.
It includes two of the charity's workers, Clare Cook and Sophie Lapham, who devote their lives to finding the disappeared.
Within the tragic bonds that bind the members together, friendships have been forged.
Sometimes, there is even laughter as the choirmaster, music producer James Hawkins, cracks jokes.
Teacher Ros, 52, says: "There is just something about music which helps you focus. It takes you out of yourself, if only for a while."
The choir was born almost by ­accident in 2013, when 69-year-old Peter Boxell dreamed he was singing to his missing son Lee.
Lee was 15 when he disappeared en route to a Crystal Palace football match in 1988.
Peter and his 74-year-old wife Christine left the teenager's room untouched for almost two decades in the hope he would return – but he never did.
For many years, police have believed he was murdered, but they have never gathered enough evidence to bring charges against anyone.
Peter, of Cheam, Surrey, had been asked by Missing People to give a speech at its Christmas carol service shortly before he had his dream.
"When I woke up I remembered the lyrics so well," he explains. "I sang, 'he never came home, where is my dear son Lee?'
"I mentioned the song to the staff at Missing People and they asked if I would sing it. I jokingly agreed, but they really meant it.
"They sent me to a studio, where I met James Hawkins. He was so talented. He managed to make a backing track which sounded just like the song I'd had in my dream.
"Then he gave me an hour's singing lesson and I sang the song alone at the service.
"I got a standing ovation from 800 people. People were in tears. Afterwards, the charity decided that if it had worked well for me, it would be good to get others involved."
Peter helped the choir write its first number, I Miss You. They made a music video on top of London's Baby Shard in 2014.
"I had a solo line, 'where are you now, are you safe and well?'," Peter says. "When I sang those words, it felt I was sending a message all around London.
"It's been very rewarding meeting other families. We've something in common but it's not just our loss.
"It's our hope that our music will inspire and comfort others and raise awareness. I can never give up hope that Lee will come home."
Another founder member, Denise Horvath-Allan, of Kew, South West London, flicks through pictures of her son Charles.
He was 21 when he vanished hitchhiking through Canada in 1989. "My son was my life," she says. "He was my only child."
Beautician Denise, now 66, sold her salon to fund the search and has spent the last 27 years making desperate pilgrimages to British Columbia.
"My life ended when I lost him," she says. "Last year was supposed to be my last trip to Canada.
"I'm getting old now, but there are people out there who know his fate and I won't let them sleep at night.
"The police tried to make out Charles was a runaway, but he was 21. I will keep searching for my child until I die."
Peter Lawrence has an idea of the mental torture Denise suffers.
His life fell apart seven years ago when his daughter Claudia failed to turn up for her shift as a chef at York University.
Peter, a retired solicitor, has travelled from there to be at today's rehearsal. "In some ways, it's very difficult to sing the songs because of their words," he says.
"But everyone tells us just how moving the lyrics are. We still hope one day Claudia will be back with us."
Ros Hodgkiss is one of the choir's newest recruits. She tells how hope, the message of the new single, is still important to her even though Alice is dead.
"For me, it's a different sort of hope," she says. "I hope I'll be able to carry on and honour Alice's memory.
"Some people may still have family members missing, but the emotions are the same.
"There is this huge hole where someone you love should be. I wake thinking about Alice and I go to bed thinking about her. Two years on, things are as raw as they were on day one.
"But here we are making something very positive. And I want to help other families."
Star Chesney, 44 , said: "I'm a parent and I found it hard to get through singing the song.
"But I'm proud to be a part of it and I hope we can help reunite people with their families."
As the choir runs through the number in four-part harmony one final time, the words seem more powerful than ever.
"I feel like I'm singing for my son," Peter Boxell admits. "I can't do anything else to find him. But I can sing."
Who makes up the choir1
Clare Cook, 41, from Richmond, South London, head of campaigns at Missing People
2
Sophie Lapham, 38, from West Norwood, South London, director of services at Missing People
3
 Ros Hodgkiss, 52, from London, mum of Alice Gross who was found dead after going missing for a month in 2014
4
 Peter Lawrence, 69, from York, dad of Claudia Lawrence who disappeared aged 35 in 2009
5
 Sarah Godwin, 68, from Epsom, Surrey, whose son Quentin went missing in 1992 in New Zealand aged 18
6
Emma Cullingford, 32, from London, whose mum Sandra Hall was found dead a month after going missing in 2013 aged   56. She said: "It was agony not knpwing what had happened to my mum. I can't imagine what others in the choir feel like as their families have been missing for years."
7
 Nicki Durbin, 47, from Ipswich, Suffolk, whose son Luke went missing in 2006 aged 19. She said: "There is no judgement between families of the missing. We're here because of a very serious issue but sometimes we find ourselves laughing. It's been an amazing experience."
8
Violeta Hawkins, 36, from London, whose sister Lucia went missing in 2009 aged 42, in Perugia Italy. She said: "The choir provides me with a way of dealing with my sense of loss."
9
 Steve Williams, WAITING ON AGE, from Teddington, Middlesex, long term supporter of the Missing People charity. A keen singer, he joined the choir in 2014 because he wanted to help the supporters
10
Diane Lucas, 53, from Camden, North London, family friend of Alice Gross. She joined to lend moral support to Alice's mum, Ros.
11
Denise Horvath-Allan, 66, from Kew, South London, mum of missing Charles who disappeared in 1989 aged 21
12
Tom Hawkins, 37, from London, husband of Violeta and brother-in-law of missing Lucia. He said: "It's good to spend time with the family and friends of other missing people who understand our turmoil and emotions."
13
Peter Boxell, 69, from Cheam, Surrey, dad of missing Lee who disappeared in 1988 aged 15
http://www.mirror.co.uk/news/uk-news/incredible-choir-bound-together-heartache-7919460

Max

Slayer of scums





Join date

: 2011-08-23



It must be heartbreaking for them, Max.

_________________
__________________________

Few will weep tears for Amaral, seeing an angry man locked up in his own bitter and baseless theories. -Neil Tweedie, Daily Mail, of the McCanns' tormentor Gonzo.

bb1

Slayer of scums





Location

: watcher on the wall


Join date

: 2011-06-24



bb1, your words are mine.

Pedro Silva

Slayer of scums





Join date

: 2011-06-26




Max

Slayer of scums





Join date

: 2011-08-23




Madeleine McCann and Ben Needham feature in video for International Missing Children's Day song
00:01, 20 MAY 2016
BY STEPHEN BEECH
The song is performed by a choir of relatives of missing children, along with stars including Chesney Hawkes, Rick Astley and Nik Kershaw
Madeleine McCann and Ben Needham will feature in the video for a new charity single, 'I Hope', sung by a choir made up of relatives of missing children.
They aim to reach the No 1 spot on International Missing Children's Day on May 25, and help reach more of the 140,000 children who disappear every year.
The Missing People Choir was joined by singers including Chesney Hawkes, Rick Astley, Nik Kershaw, Carol Decker and Lesley Garrett as well as Royal Mail's Mail Voice Choir.
The video features images of some of Britain's missing children including Madeleine McCann, who disappeared while on holiday with her family in Portugal in May 2007, aged three; who disappeared from Kos in Greece in 1991, aged one; and Aamina Khan who disappeared from Croydon, south London, in August 2011, aged six.
The single's release has been timed to coincide with the Big Tweet for Missing Children on May 25, which will see the charity Missing People tweet an appeal for a missing children every 30 minutes for 24 hours.
The purpose of the tweetathon is to ensure that appeals for missing children are seen by as many people as possible.
Celebrity supporters including Simon Cowell, JK Rowling and Stephen Fry ensured there were nearly 100,000 retweets of appeals and 19 of the missing children featured in last year's event have since been found.
Choir member Peter Boxell, whose son Lee has been missing since 1988, said: "It would mean so much to me and to all families with missing children if the public would show their support for the UK's missing children and help us with the aim of reaching the number one spot on International Missing Children's Day.
"We are relying on people spreading the word, and sharing it with friends and family. The more people who download the song the more help can be given to Missing People to help them reach out to, search and support more missing children."
Rick Astley said: "I Hope was inspired by the words of a father whose son went missing aged 14 and is still missing seven years later.
"It is a powerful and very moving song about the pain of hope that these families feel, and I am really proud to have sung on it.
"I really hope that people get behind this and help these families reach out to their missing children."
Choir members performing on the single include Nicki Durbin, for whom the song also marks the 10th anniversary of the disappearance of her son Luke; Sarah Godwin, whose son Quentin went missing in May 1992; and Ros Hodgkiss, whose daughter Alice Gross was missing for a month before she was tragically found to have been murdered.
I Hope was co-written and produced by Missing People Choir director James Hawkins and Ash Alexander.
http://www.mirror.co.uk/news/uk-news/madeleine-mccann-ben-needham-feature-8010388

Max

Slayer of scums





Join date

: 2011-08-23




Max

Slayer of scums





Join date

: 2011-08-23



I accidentally wander towards the thought occasionally. That of one of my children being missing. But I switch it off almost immediately because even an imagined thought is too painful.

Sabot

Slayer of scums





Location

: Bretagne


Join date

: 2011-06-24


Age

: 79




---
Permissions in this forum:
You
cannot
reply to topics in this forum