Men arrested on suspicion of 'commission, preparation and instigation of acts of terrorism'.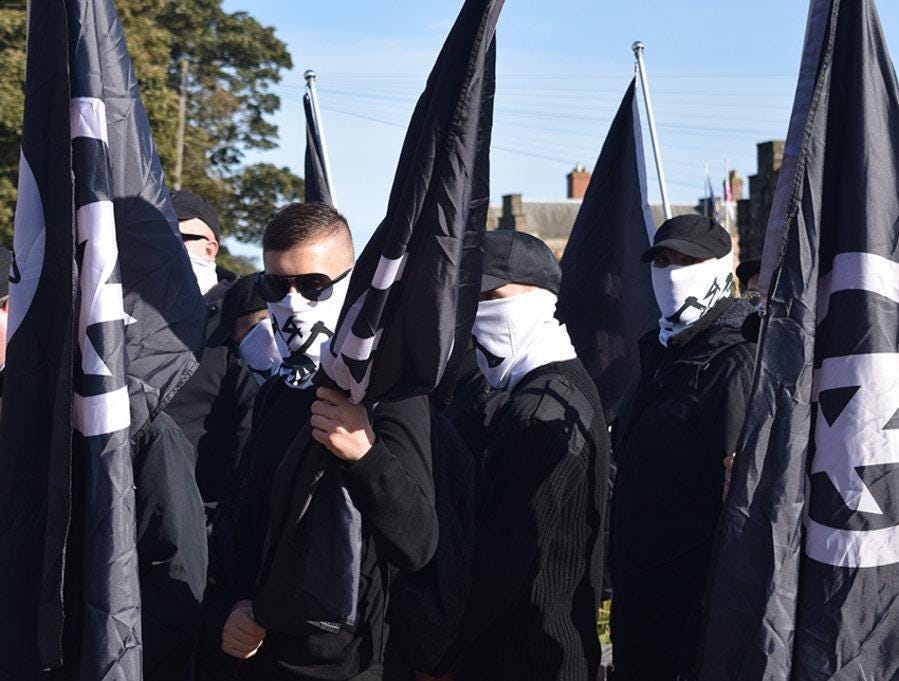 Four alleged members of a banned neo-Nazi group have been arrested on suspicion of terror offences.
The men, from the Midlands, Suffolk and Wales, were detained by counter-terror police in a series of raids and their homes are being searched.
West Midlands Police said the suspects are a 22-year-old man from Birmingham, a 32-year-old man from Powys, a 24-year-old man from Ipswich and a 24-year-old man from Northampton.
A spokesperson added: "They have been arrested on suspicion of being concerned in the commission, preparation and instigation of acts of terrorism under Section 41 of the Terrorism Act 2000; namely on suspicion of being a member of a proscribed organisation, National Action.
"All four men are being held at a police station in the West Midlands."
They were arrested in a joint operation by specialist counter-terror units for the East Midlands, West Midlands and Wales.
"The arrests were pre-planned and intelligence-led - there was no threat to the public's safety," a spokesperson added.
Section 41 gives police the power to arrest anyone "reasonably suspected to be a terrorist" without warrant.
West Midlands Police would not give further details of the men's activities but the "commission, preparation and instigation" of terrorism encompasses a wide spectrum of acts include directly planning an attack, joining a prohibited group or giving effect to that intention.
National Action became the first extreme right-wing group to be banned in the UK in December, but investigations have found its members are still meeting in secret.
The Government's list of proscribed terror groups describes it as "a racist neo-Nazi group" that was established in 2013 and had several branches in the UK that launched provocative protests and activity aimed at intimidating local communities.
"Its activities and propaganda materials are particularly aimed at recruiting young people," the document says.
"The group is virulently racist, anti-Semitic and homophobic. Its ideology promotes the idea that Britain will inevitably see a violent 'race war', which the group claims it will be an active part of. "The group rejects democracy, is hostile to the British state and seeks to divide society by implicitly endorsing violence against ethnic minorities and perceived 'race traitors'."
The Government said National Action's online propaganda and social media glorified the use of extreme violence and terrorism for ideological goals, including praising the man who murdered Labour MP Jo Cox.
On post read "only 649 MPs to go" and included a photo of killer Thomas Mair with the caption "don't let this man's sacrifice go in vain" and "Jo Cox would have filled Yorkshire with more subhumans!".
Another image celebrated the Isis-linked terror attack on an LGBT-friendly nightclub in Florida, and one showed a police officer's throat being slit.
During a trip to the Buchenwald concentration camp in Germany last year, masked members displayed their flag and performed Hitler salutes in what they called an "execution room".
National Action, which describes itself as a "National Socialist youth organisation", was known for using the phrases "Hitler was right" and "Britain is ours, the rest must go" at marches and online.
It used social media to call for a "white jihad" and "crusade" in Britain, as well as urging followers to "kick racism back into football" and go "paedophile hunting", while claiming the refugee crisis was an international Jewish and Marxist conspiracy.
Being a member of National Action or inviting support for the group is a criminal offence carrying a sentence of up to 10 years imprisonment.
Amber Rudd, the Home Secretary, said the organisation had "absolutely no place in a Britain that works for everyone".
Speaking in December, she said the ban hoped to prevent its membership from growing and curtail the ability of its "poisonous propaganda" to radicalise vulnerable young people.
While counter-terror efforts in the UK are largely focused on Islamist extremism, the number of suspected far-right radicals flagged to an anti-terror programme has soared.
Just under a third of all people being monitored under the Channel programme in 2016/17– part of the Prevent terror prevention scheme – believe in extreme right-wing ideologies and are vulnerable to radicalisation, according to unpublished Home Office figures.
Following the terror attack targeting Muslim worshippers in Finsbury Park, which left one man dead, the security minister warned that online propaganda was fuelling both jihadi and far-right extremism.
Ben Wallace, the security minister, said the Government was "aware of a rise in the far-right", while the former Independent Reviewer of Terrorism Legislation said the threat from the "murderous" extreme right-wing must not be underestimated.

Lamplighter

Slayer of scums





Location

: I am the Judge, Jury and Executioner


Join date

: 2011-06-24


Age

: 78




_________________
__________________________

Few will weep tears for Amaral, seeing an angry man locked up in his own bitter and baseless theories. -Neil Tweedie, Daily Mail, of the McCanns' tormentor Gonzo.

bb1

Slayer of scums





Location

: watcher on the wall


Join date

: 2011-06-24



bb1 wrote:Great, more nutjobs.
All four are soldiers in the Royal Anglian Regiment! LL

Lamplighter

Slayer of scums





Location

: I am the Judge, Jury and Executioner


Join date

: 2011-06-24


Age

: 78




---
Permissions in this forum:
You
cannot
reply to topics in this forum