Pedro Silva

Slayer of scums





Join date

: 2011-06-26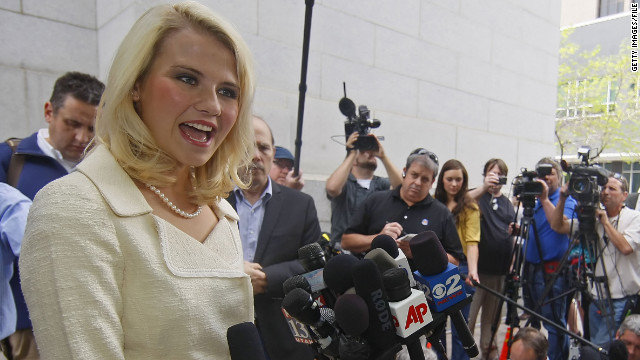 (CNN) -- Elizabeth Smart, the Utah woman abducted as a teenager and held captive for months, tied the knot at a private ceremony in Hawaii over the weekend.
"Yes, Elizabeth did get married today and we are all thrilled," said Smart's father, Ed, on Saturday.
Smart and Matthew Gilmour exchanged vows Saturday on Oahu's North Shore before family and friends, CNN affiliate KSL said, citing a family spokesman.
They plan to honeymoon at an undisclosed location, according to Chris Thomas, the spokesman.
"Elizabeth's desire was for what most women want — to celebrate her nuptials in a private wedding with family and close friends," Thomas told the affiliate.
The pair got engaged last month and planned to get married in the summer, but moved up the wedding because of the media attention, the spokesman said.

Gilmour, a native of Scotland, met his bride while she was doing missionary work in France. Smart attends Brigham Young University and also works for ABC News.
Smart made headlines in 2002 when she was kidnapped from her Salt Lake home at age 14 and held captive for nine months. Her kidnapping stunned the nation, and the media covered the monthslong search to find her.
Her abductor, Brian David Mitchell, sexually abused her during her time in captivity, and is serving life in prison for the kidnapping and assault.
Authorities rescued Smart when she, her captor and his wife were spotted wandering in Sandy, Utah, in March 2003.
Smart described the ordeal as "my nine months in hell" during court testimony two years ago.
---------------
She looks lovely in that pic, may she and her new husband have every happiness in the future.
So much for all the forkers and freaks who thought she would be better off dead - shows how much the likes of them matter, doesn't it?

_________________
__________________________

Few will weep tears for Amaral, seeing an angry man locked up in his own bitter and baseless theories. -Neil Tweedie, Daily Mail, of the McCanns' tormentor Gonzo.

bb1

Slayer of scums





Location

: watcher on the wall


Join date

: 2011-06-24



http://www.mirror.co.uk/news/world-news/girl-abducted-14-raped-months-11483407
Girl abducted at 14 and raped for months reveals three important things all parents should tell their children
WARNING - DISTRESSING CONTENT: Elizabeth Smart was snatched from her bedroom and taken to a camp in the woods by her captors Brian David Mitchell and his wife Wanda Barzee
Lucy Clarke-Billings
18:45, 7 NOV 2017
A teenager who was abducted at age 14 and raped for nine months says she wants parents across the world to tell their children three important things.
Elizabeth Smart was snatched from the bedroom she shared with her nine-year-old sister Mary Katherine in Salt Lake City, Utah, on June 5 2002.
For months, the young teenager was raped and drugged while her captors forced her to drink alcohol and watch pornography.
Elizabeth was routinely left tethered to a tree without any food between extended periods of horrific abuse.
The 14-year-old's kidnappers - Brian David Mitchell and his wife Wanda Barzee - attempted to indoctrinate her with their religious beliefs.
Mitchell went by the name Emmanuel and described himself as a prophet.
Eventually, Mitchell was recognised walking down the street with a young girl wearing a wig and sunglasses.
A passerby reported him to police and Elizabeth was found less than 24 hours later.
Today, the now 30-year-old participated in a Reddit forum titled Ask Me Anything.
And one of the top rated questions read: "In your opinion as a children's advocate, what are some practical, commonsense steps parents can take to help their children avoid abuse? (And I guess I mean abuse in a general way, anything from extreme bullying to abduction.)"
Elizabeth replied with three clear points.
1. Make sure your child knows that they are loved unconditionally, and make sure your child knows what unconditionally means
2. Make sure that your child understands that no one has the right to hurt them or scare them in any way. It doesn't matter what that person may be: family, friend, religious leader, community leader, it doesn't matter
3. Should anyone hurt your child or threaten them in anyway, they need to tell you.
She later added, "Practice screaming, encourage your kids to fight back, there is a place and a time when it's not only acceptable it's encouraged."

Max

Slayer of scums





Join date

: 2011-08-23



http://www.dailymail.co.uk/news/article-5059343/Elizabeth-Smart-visits-movie-set-based-kidnapping.html
Kidnapping victim Elizabeth Smart confronts her worst nightmare by visiting the set of a movie based on her terrifying ordeal and facing the actor playing her abductor
.Elizabeth Smart recently came face-to-face with the actor cast to play the man who abducted her from her Salt Lake City home in 2002
.The film 'I Am Elizabeth Smart' will tell the story of how she was abducted age 14
.She was held captive by Brian David Mitchell for nine months
.Smart said she was shocked to see how closely the actor resembled Mitchell
.Mitchell, who raped Smart up to four times a day, is serving a life sentence
By Emily Crane For Dailymail.com
PUBLISHED: 18:52, 7 November 2017 | UPDATED: 22:52, 7 November 2017
Kidnapping victim Elizabeth Smart has confronted her worst nightmare by stepping onto the set of a movie based on her terrifying ordeal.
Smart was 14 years old when she was abducted from her bedroom in Salt Lake City and held in a remote spot in the woods in 2002 for nine months.
She was raped up to four times a day by her captor Brian David Mitchell who is serving a life sentence for the kidnapping.
Smart recently stepped onto the set of Lifetime's 'I Am Elizabeth Smart' and was shocked when she came face-to-face with the actor who is playing the role of her captor.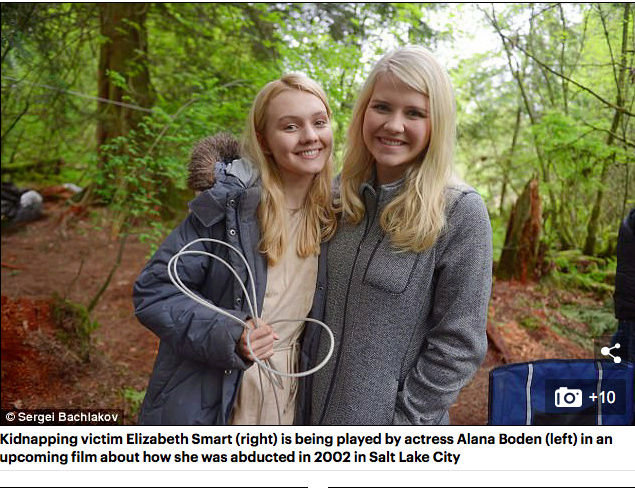 'I just remember I saw him and it was just kind of like this moment of being taken aback because he looked so much like Brian Mitchell,' Smart told Deseret News.
Skeet Ulrich, the actor cast to play Mitchell, was in costume ready to start filming when Smart laid eyes on him.
'(Ulrich) was lovely and kind, but it was just so surreal because he looked so much like (Mitchell), but he was just so opposite in mannerism and personality that it was just kind of a parallel world, parallel universe, kind of feeling,' Smart said.
Smart, who is now 29 and a married mother of two, narrates the upcoming film and helped produce it.
continues at link

Max

Slayer of scums





Join date

: 2011-08-23




---
Permissions in this forum:
You
cannot
reply to topics in this forum