A top US Republican and aides have been shot during baseball practice in Virginia, a congressman says.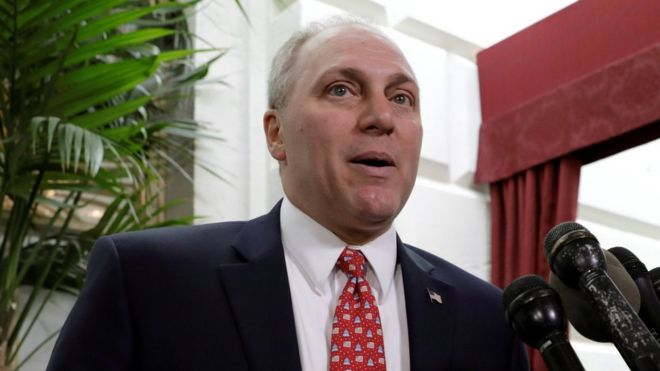 House Majority Whip Steve Scalise
Police in the upmarket Washington DC suburb of Alexandria said they were investigating a "multiple shooting" and a suspect was in custody.
Alabama lawmaker Mo Brooks told CNN House of Representatives Majority Whip Steve Scalise and aides were shot.
Police tweeted they were "investigating multiple shooting 400 block E Monroe St. Suspect believed in custody".
The lawmakers were practising for the annual congressional ballgame between Democrats and Republicans, which was scheduled to be played on Thursday at Nationals Park, home of Major League Baseball franchise the Washington Nationals.
An apparent eyewitness on Twitter, @ben_childers, said Wednesday morning's gunfire rang out at the YMCA baseball fields, by the Eugene Simpson Stadium Park.
Latest updates
Local media report there is a major police presence after the attack.
Alexandria police tweeted: "Suspect is in custody and not a threat."
Senator Mike Lee, a Utah Republican, texted Fox News to say that Mr Scalise had been shot in the hip and would survive.
He said someone had used a belt as a tourniquet on him.
President Donald Trump said in a statement: "We are deeply saddened by this tragedy."
White House press secretary Sean Spicer tweeted that the president was being updated on the attack.
Representative Mo Brooks, an Alabama Republican, told CNN he was on third base during the baseball game when he saw Mr Scalise, who was on second base, shot.
He said everyone on the field scattered as 50 to 100 shots were fired.
Mr Brooks said a gunfight ensued between the shooter and the congressmen's police security detail.
CNN reports that two police officers were also shot.
Mr Brooks said the shooter was armed with a rifle and was "blasting away" from behind the dugout, using it for protection.
The congressman, who said he took refuge behind a batting cage, described the attacker as a middle-aged white male "a little on the chubby side".
Mr Brooks said Senator Rand Paul, of Kentucky, and congressmen Chuck Fleischmann, of Tennessee, Ron DeSantis, of Florida, and Jeff Duncan, of South Carolina, were among 15-25 lawmakers at the game.
Mr Brooks told CNN that Ohio congressman Brad Wenstrup, who is a medical doctor, provided medical care at the scene.
Asked by a CNN host if the attack was deliberate, Mr Brooks replied: "Well, it sure as heck wasn't an accident!"
He added: "People know this is Republican baseball team practising. You can recognise it, you can see our security detail.
"It's pretty well known in the neighbourhood. So it's not a secret that we're practising over here.
"He was going after elected officials, congressmen."
Mr Brooks continued: "The only weapon I had was a baseball bat and that's not the kind of fight you want to engage in."
http://www.bbc.co.uk/news/world-us-canada-40275055

Lamplighter

Slayer of scums





Location

: I am the Judge, Jury and Executioner


Join date

: 2011-06-24


Age

: 78




_________________
__________________________

Few will weep tears for Amaral, seeing an angry man locked up in his own bitter and baseless theories. -Neil Tweedie, Daily Mail, of the McCanns' tormentor Gonzo.

bb1

Slayer of scums





Location

: watcher on the wall


Join date

: 2011-06-24



http://www.zerohedge.com/news/2017-06-14/virginia-shooter-identified-66-year-old-james-hodgkinson-supporter-bernie-sanders
Shooter Identified As Never-Trumper James Hodgkinson: "Mr. President You Are Biggest Asshole Ever"


Update:

President Trump has just confirmed that Hodgkinson has died from wounds incurred during his shootout with the Capitol Police this morning.

This morning's Alexandria, VA shooter has been identified as 66-year-old, never-Trumper and Bernie Sanders supporter James Hodgkinson of Belleville, Ill., according to law enforcement officials. As we reported earlier this morning, Hodgkinson allegedly asked Rep. Jeff Duncan whether it was Republicans or Democrats on the practice field before opening fire. We've covered all of the key developments throughout the morning here.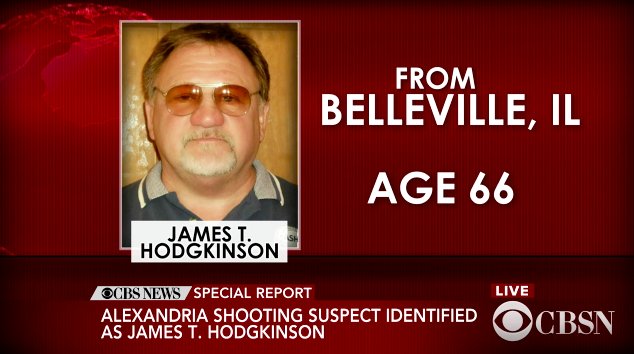 According to press reports, Hodgkinson apparently owns a home inspection business though his license expired in November 2016 and was not renewed.

Hodgkinson was charged in April 2006 with battery and aiding damage to a motor vehicle, according to online records in St. Clair County, Illinois. The charges were dismissed, records show.

According to The Week, restaurant owner Charles Orear knows Hodgkinson through work they did together in Iowa on Senator Bernie Sanders' presidential campaign. Orear described Hodgkinson as "more on the really progressive side of things," as well as being "a quiet guy" and "very mellow, very reserved."

While police have refused to confirm whether the attack was politically motivated, Hodgkinson's Facebook page seems to indicate he was a Bernie fan and didn't particularly care for Donald Trump, to put it mildly.

"I want to say Mr. President, for being an ass hole you are Truly the Biggest Ass Hole We Have Ever Had in the Oval Office."

More reports on this latest madness at link. A crazy Bernie supporter is something we could have done without.

_________________
__________________________

Few will weep tears for Amaral, seeing an angry man locked up in his own bitter and baseless theories. -Neil Tweedie, Daily Mail, of the McCanns' tormentor Gonzo.

bb1

Slayer of scums





Location

: watcher on the wall


Join date

: 2011-06-24




---
Permissions in this forum:
You
cannot
reply to topics in this forum